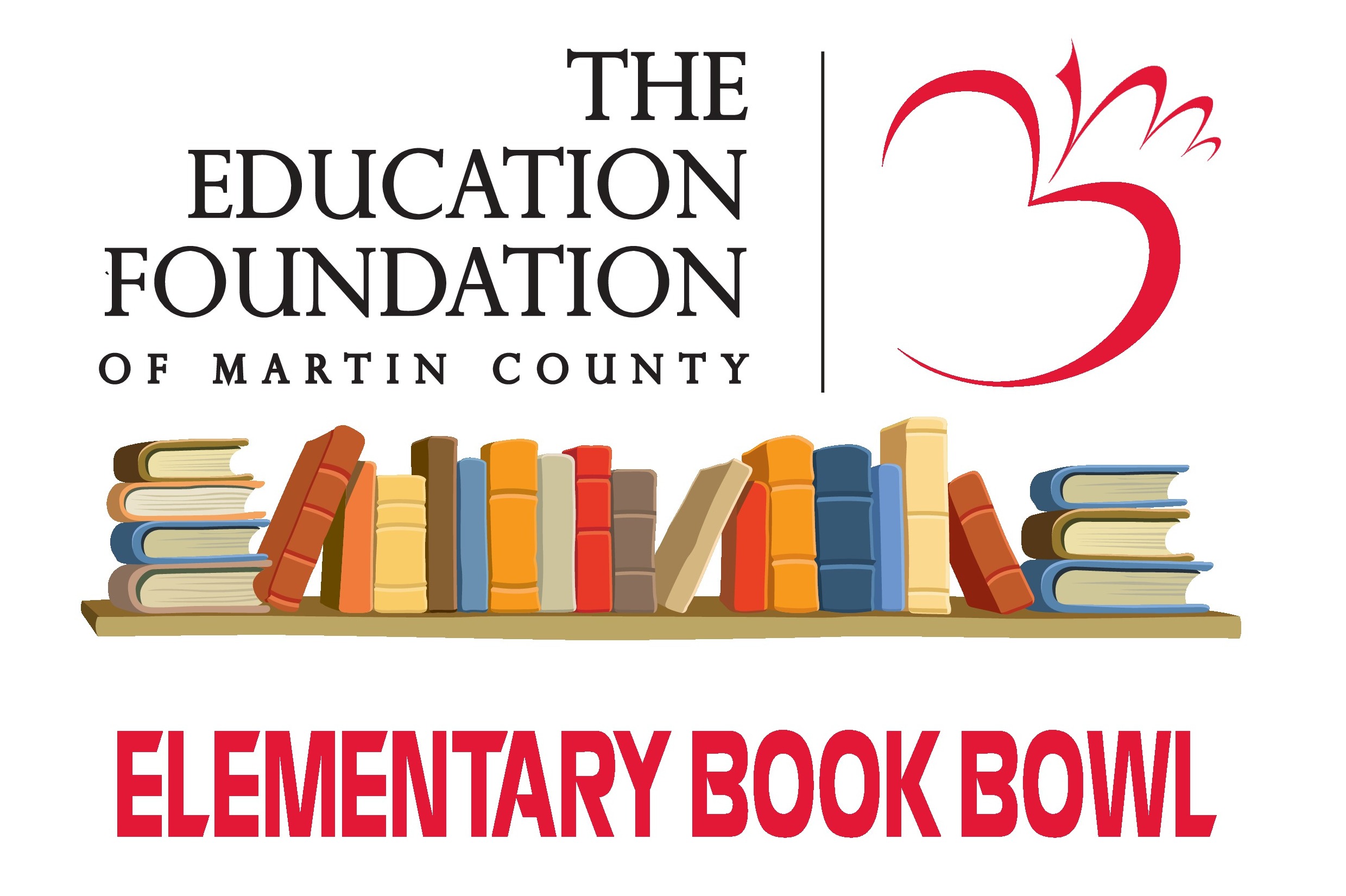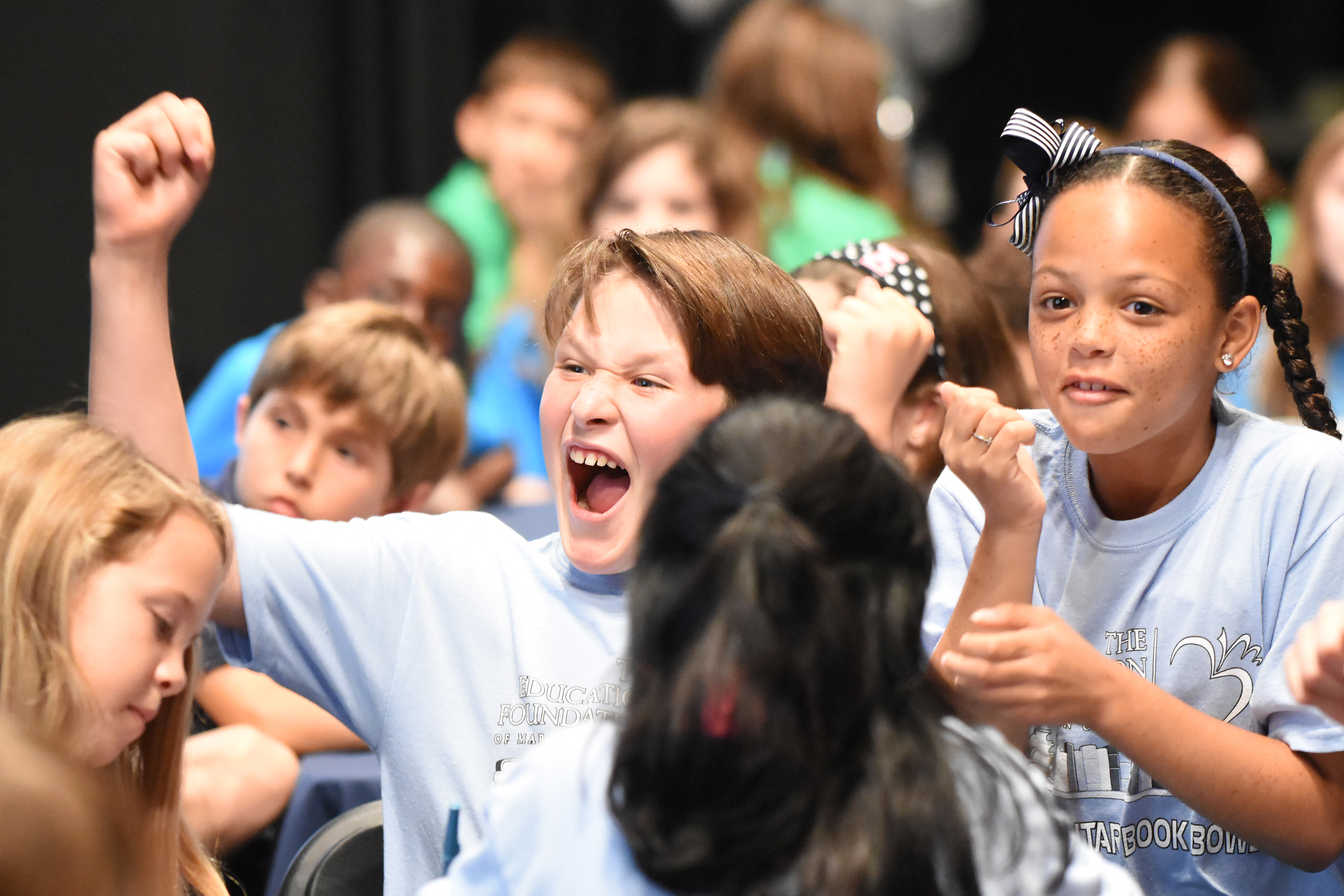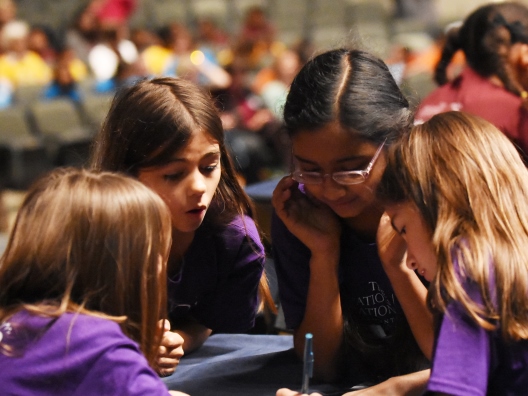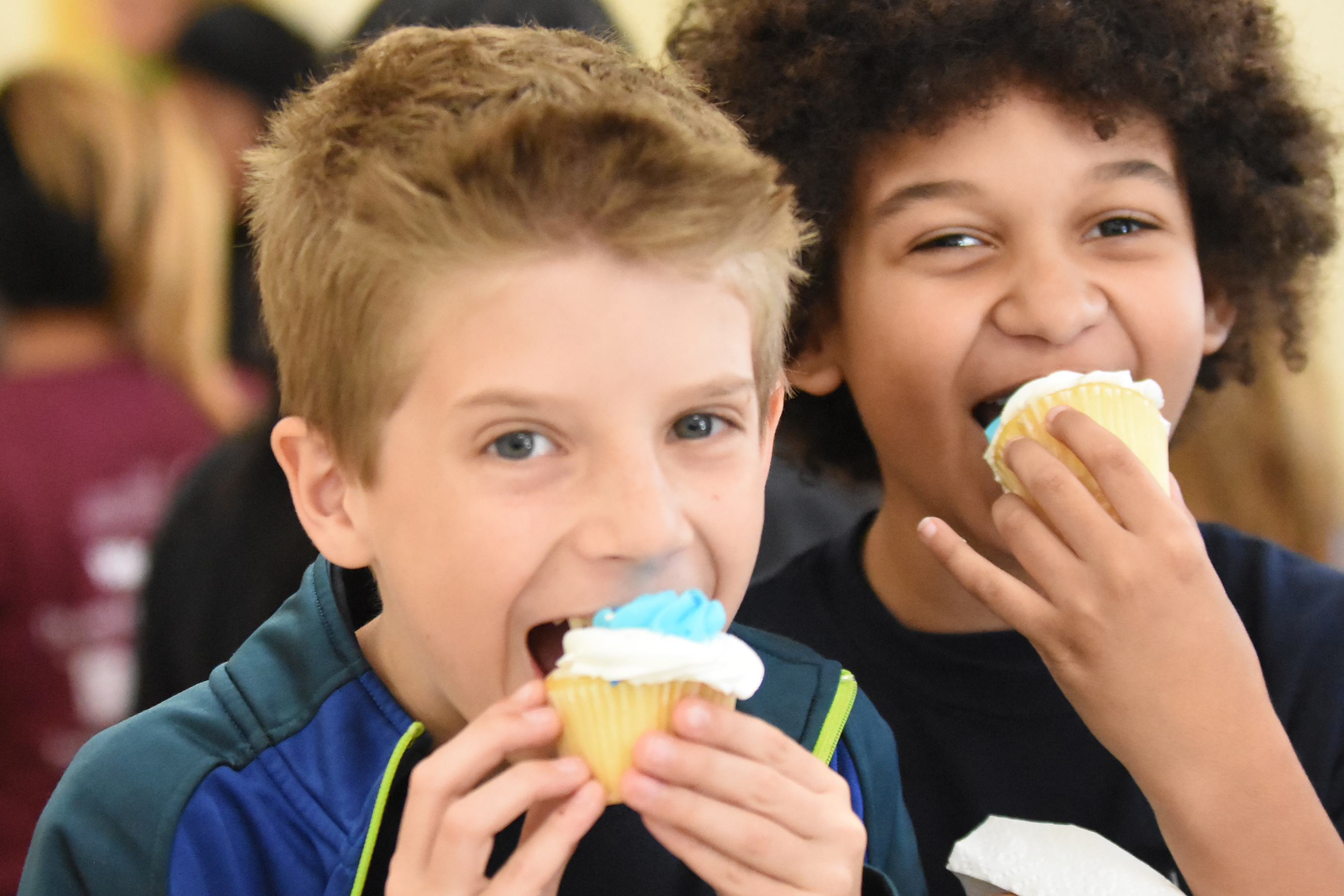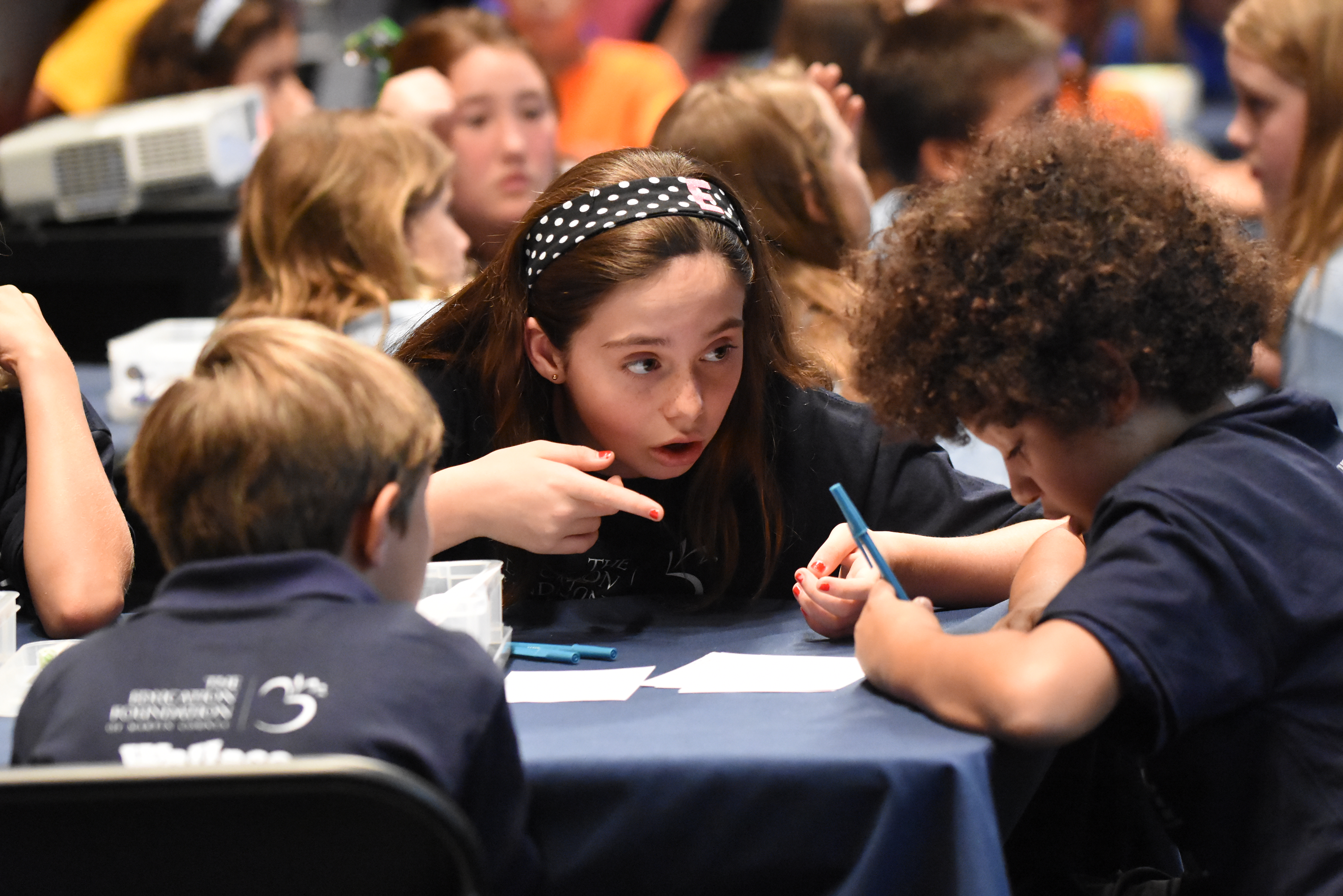 It's the Super Bowl of elementary grade school reading – and this year's championship goes to Palm City Elementary!  The Education Foundation of Martin County's 6th Annual Elementary Book Bowl was held on May 9th at Jensen Beach High School.  Approximately 150 students in grades 3 through 5 participated in the competition, which tested their knowledge of 15 books selected by the Sunshine State Young Reader's Award Program.  Questions were posed game-show style, with each team having 45 seconds to submit their answers. 
Students from Palm City Elementary (PCE) took home grand prize trophies for the third year running, with Pinewood Elementary in Stuart taking second place and SeaWind Elementary in Hobe Sound placing third.  Felix A. Williams Elementary in Stuart was also recognized for having full student participation (15 students) for four years running. 
The Book Bowl has become a popular annual event for elementary school students, and helps to motivate reading, says EFMC's Executive Director Lisa Rhodes.
"The Education Foundation is committed to increasing student interest and achievement in reading, and our Elementary Book Bowl allows us to do just that," says Rhodes.  "We are so thankful to all of our media specialists and coaches who go above and beyond to work with team members before, during and after school hours to ensure they are prepared for this friendly competition."
Courtney O'Neal, a coach for this year's winning team, says the Book Bowl gives students a chance to share their love of reading with others:  "The children are extremely enthusiastic when discussing the books with one another," she says. 
PCE 5th grader Nira Goyal agrees.  "I like working as a team in the Book Bowl, because it lets me listen to other people, discuss answers and solve questions."  Nira, who particularly enjoys fiction and mystery books, has participated in the Book Bowl for three years. 
Her teammate Kyle Stephenson, a 4th grader and first-year participant, likes the academic benefits of the competition:  "I like to read because reading improves my mind, and my mind improves the world." 
The Education Foundation of Martin County also purchases a library bound set of each year's Sunshine State Readers for each school's media center.  
Thanks go out to this year's sponsors, who made the 2017 Book Bowl possible:  The School District Education Foundation Matching Grant Program, Wallace Hyundai, Dr. and Mrs. Nathaniel Hill, the Loblolly Community Foundation, the Treasure Coast Sisters Book Club, Jensen Beach Elementary PTA, the Staten Family, Seaside Bank, GIFT Family Services, Dr. Brad J. Waronicki, Laviano & Associates, Friends and Family of SWE, Indiantown Realty/Southeastern, South Florida Title Company, Jill Brotherton, Diagnostic Radiology Center of the Treasure Coast and the Arati Hammond Real Estate Team at Keller Williams.
Congratulations to our 2016-2017 Champions!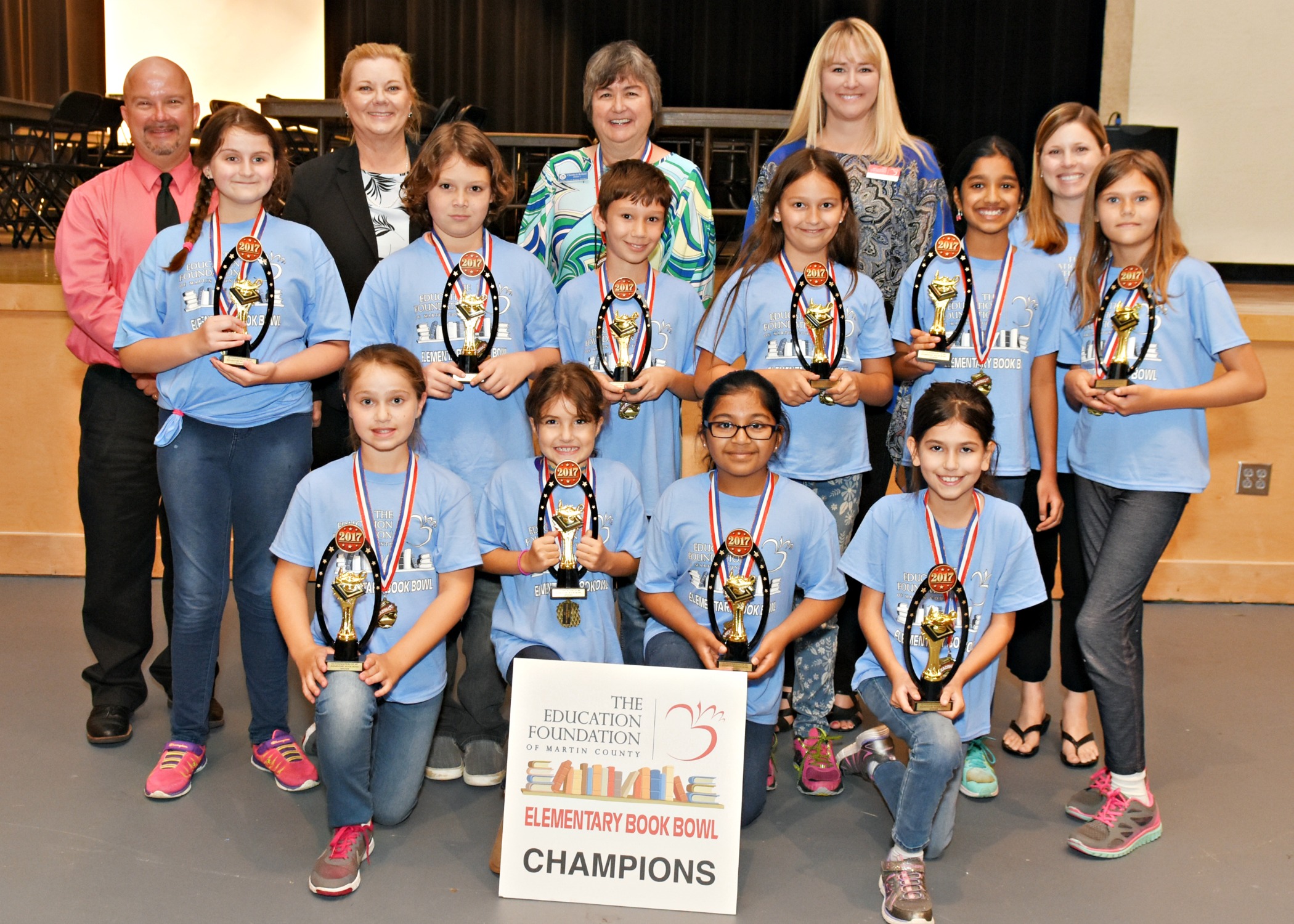 Palm City Elementary School 
Congratulations to all of our teams for an outstanding performance!
See you next year!
Additional photos will be posted on our Facebook page as they become available.
______________________________________________________________________________________
Would you like to help us sustain this literacy program?
Make a monetary donation?  Be a judge?  Volunteer your photography skills?
If so, please contact Lisa Rhodes at 772-600-8062 for additional information.
_____________________________________________________________________________________